Reed Raiders Girls Back on Top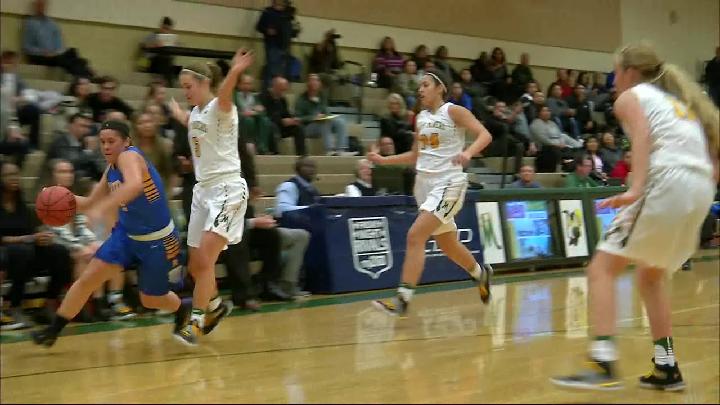 The Reed Raiders girls' basketball team took a huge step to show everyone they are the team to beat this year in the 4A.  They played the three-time defending regional champions, the Bishop Manogue Miners on December 5th at the home.  The much ballyhooed early season match-up turned out to be one-sided.
The Raiders scored on a layup by Vanessa Hernandez on the tip-off and never lost the lead.  At the end of one quarter, it was 23 to 8 and it only got worse.  By halftime the lead had grown to a 19 point bulge, with the Raiders leading 35-16.
It was questionable at game time how much Kenna Holt, the Miners most talented player would even play.  She had been suffering with flu symptoms for a couple of days and Coach Craig Holt, her father, said during warm-ups, "she's going to start, but we will have to see".  She was definitely not the same.  She had 24 points last week against Bishop Gorman, but ended with 4 or 6 six shooting from the free throw line.
Reed played with confidence and the look of a team in mid-season form.  They started two seniors and three juniors and the experience showed.  The Miners started two seniors, two sophomores and a junior and struggled to find any continuity.  Senior Captiain Julie McElwie was the only Manogue player to score in double numbers.
Taylor Johnson showed why she is being talked about as one of the best players in the north.  She had a game high 23 points.  Hernandez added 13, Larsa Guzman and Serene Townsell both had 9.  Tori Bear was more than the Miners inside game could handle.  Repeatedly, she got the ball down low and used a rolling hook shot over her smaller defenders with four field goals.
Reed widened the margin all night and ended with a 70-39 win.  The win left no doubt that the Raiders are back!